ULTRAVIOLET PYRANOMETER
The Middleton UVR1-T2, UVR1-A2, and UVR1-B2 are precision instruments for measuring solar global ultraviolet irradiance.

UVR1-T2: $6650 AUD
UVR1-A2: $7450 AUD
UVR1-B2: $7450 AUD
Available: ask

Datasheet


Manual


Ask


Distributors


Price List
UVR1-T2: Broadband UV-Total Global Spectral Radiometer
UVR1-A2: Broadband UV-A Global Spectral Radiometer
UVR1-B2: Narrowband UV-B Global Spectral Radiometer

Download this paper to see how the UVR1-B2 compares to other commercial UV radiometers
The Middleton Solar UVR1 series are precision filter radiometers for measuring solar global ultraviolet irradiance. The UVR1-T2 and UVR1-A2 are suitable for air pollution monitoring. The UVR1-B2 is suitable for biological and human erythema (sunburn) monitoring.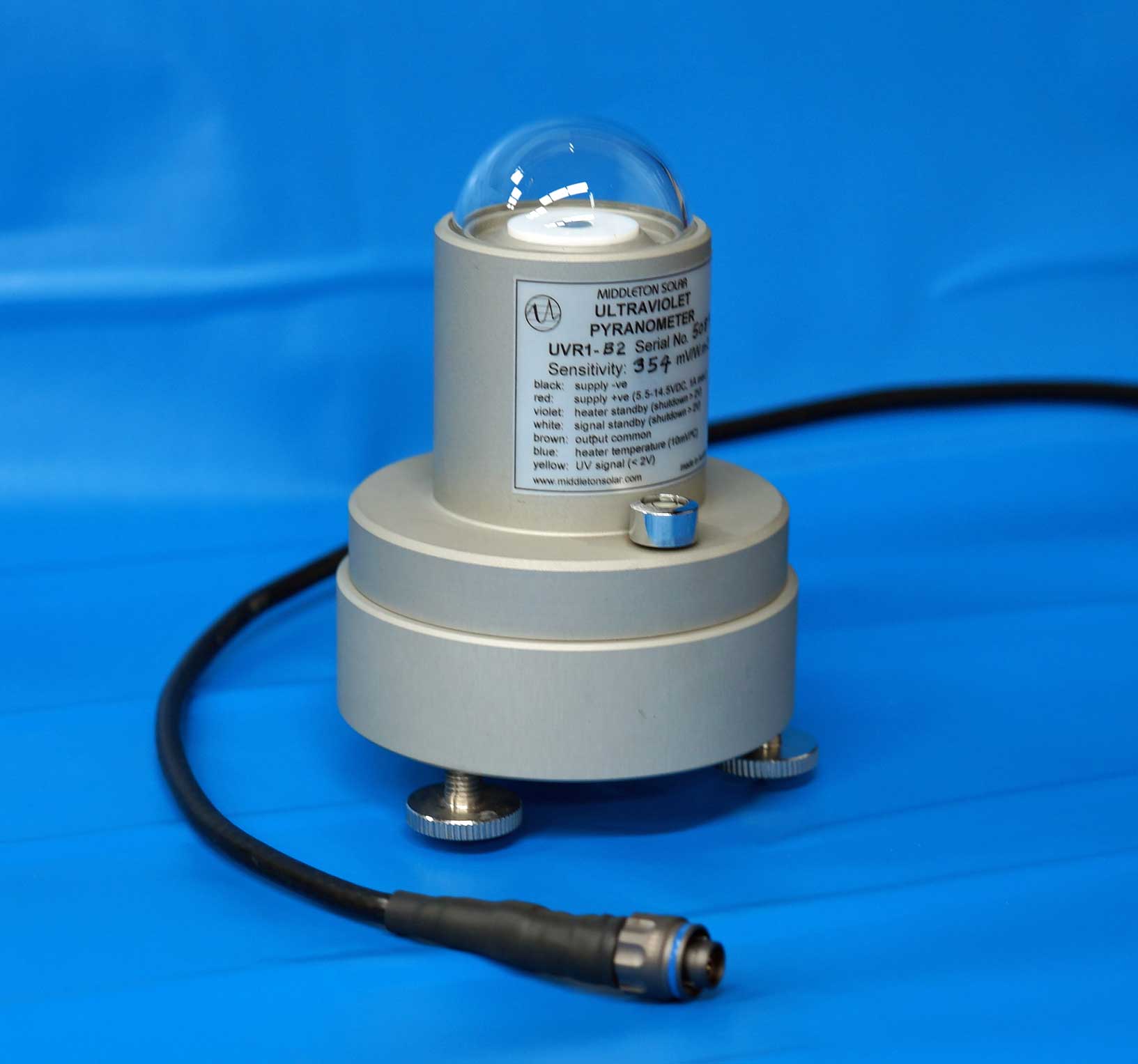 Performance Specification
Response time (95%)

< 0.5s

Resolution

< 0.1% of full-scale

Non-stability (per year)

< -3%

Non-linearity

< 1%

Directional error (cosine + azimuth)

< 3% (0- 85deg. zenith angle)

Sideband error (% signal, typical)

UVR1-T2 & UVR1-A2: negligible.

UVR1-B2: < 3.5% (summer)

Temperature error

< 1%
NEGLIGIBLE COSINE ERROR, EXCELLENT STABILITY
Marine-grade aluminium, anodized for corrosion resistance.
Large diameter (25mm) interference filters for long-term stability.
Narrow internal Field-Of-View to avoid filter bandpass distortion.