PHOTODIODE PYRANOMETER
The SK01-D2 is a simple low-cost pyranometer.
SK01-D2: $1400 AUD
SK01-DP2: $1465 AUD
Available: NOW

Datasheet


Ask


Distributors


Price List
The SK01-D2 is a simple pyranometer for monitoring total solar global radiation on a plane surface. The SK01-DP2 version incorporates a special interference reflector to limit its sensitivity to the Photosynthetically Active Radiation region of the solar spectrum (400-700nm).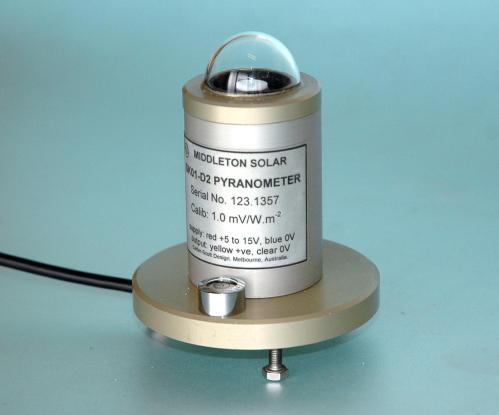 Performance Specification
Response time (to 95%)

30ms

Non-stability (per year)

< ± 2%

Non-linearity

< 1%

Directional response

< ± 30 W.m-2 (ISO9060:2018 Class C)

Spectral response (w.r.t clear sun), SK01-D2

-6% (heavy haze)

to +4% (bright cloud)

Temperature response

< ± 0.15% per °C

Tilt response

no tilt error

SILICON PHOTODIODE SENSOR WITH PRECISION AMPLIFIER
Hard anodized aluminium for corrosion resistance.
Glass dome to keep debris off the cosine corrected diffuser.
In-built signal amplifier to give a millivolt output for easy measurement.
Circular level and adjustable feet.
Sealed to IP66 and fully weatherproof.